Solstice
Looking for the most efficient and affordable solar solution? Look no further than CertainTeed's Solstice solar system. With some of the highest efficiency panels on the market today, Solstice accelerates your return on investment, improving an already financially sound decision to go solar.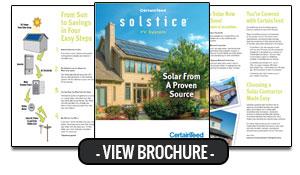 Features and Benefits
A wide range of options enable Solstice to be configured to best suit your needs:
Mono and polycrystalline panels available
Black or silver framed modules
Black or white backsheet
String or microinverters
High efficiency, cutting edge modules allow you to maximize your roof space
Mounting equipment has been specially selected to maintain the waterproof integrity of your roof
CertainTeed's most economical solar solution, facilitating maximum return on investment
Warranty Details
You count on your solar system to generate electricity reliably for a long time - 25 years. How many solar companies do you know that have been in business for even half of that time? CertainTeed has been delivering high quality products to the building industry since 1904. We will be around to honor your warranty!
When purchasing a typical solar system, you may have warranties from several different providers (modules, racking, flashing, inverters). Simplify your life with one all-encompassing warranty from CertainTeed - the most reliable company in solar. And if you have a CertainTeed roof, even better! All products and workmanship on your roof can be covered by a single company removing the risk of warranty issues caused by the alteration of your roof during the solar installation.
It is important that you take the time to understand how CertainTeed protects your purchase by standing behind our products and the professional installation of those products by our Credentialed Solar Installers.
WarrantyInstallation Workmanship
15 Yrs.
Solstice Solar Modules Power Output Guarantee
25
Yrs.
Inverters
Up to 25
Yrs.
Other Components
10
Yrs.
Go Back