GET AN ESTIMATE
Thank you for contacting Jon Wright Industries, a representative will contact you shortly.
Certainteed Solar

THE LATEST IN PHOTOVOLTAIC TECHNOLOGY,
BACKED BY THE BEST WARRANTY IN THE BUSINESS.
IT'S SOLAR MADE SIMPLE - JUST AS IT SHOULD BE.
PRODUCT SOLUTIONS
SOLSTICE
---
Looking for an efficient and affordable solar solution? Look no further than CertainTeed Solar's Solstice PV system. With some of the highest efficiency panels on the market today, Solstice accelerates your return on investment, improving an already financially sound decision to go solar.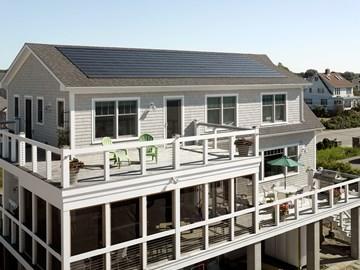 APOLLO II
---
The Apollo II system is the pinnacle of energy production, using 60-watt high-efficiency monocrystalline silicon solar cells to capture and convert the most energy per square foot. Apollo II also functions as your roof, generating clean energy while protecting your home from water intrusion.
APOLLO TITLE II
---
The Apollo Tile II system is a versatile solution for maximum power and aesthetics when installed as part of a new or existing tile roof. Designed to match the profile of flat concrete tiles, Apollo Tile II blends seamlessly into the roof plane for a clean look and protection from water intrusion.
Go Back